REPORTBACK: Barrick AGM and the Porgera Women's Delegation
Barrick's Annual General Meeting this year focused on survivor-led organizing in Papua New Guinea, as we were honoured to have the presence of two survivor-advocates against sexual violence in Porgera with us in Toronto this year. While Everlyn Gaupe and Joycelyn Mandi were inside to testify, about 50 people rallied in the cold and rain so that when they came out, they would be greeted by supporters.
Inside the meeting, Everlyn and Joycelyn were denied speaking rights, despite having legal proxies. Catherine Coumans, from MiningWatch Canada, instead read their statements aloud while the women stood beside her. Klaire Gain and Dan Hammond were able to speak to issues at Barrick's Pueblo Viejo mine within Barrick's meeting, including a hilarious exchange from the floor of the audience with Barrick President Kelvin Dushnisky.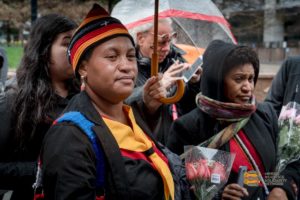 The interventions were mentioned in mainstream media and Everlyn and Joycelyn's visit has been the subject of several in-depth pieces.
The women are still in North America where they are meeting with allies and supporters. MISN is organizing a smartphone and camera drive for the women, so that they can take these documentation tools home with them to distribute amongst the women in the communities surrounding Barrick's Porgera mine. Please get in touch if you have a phone or camera to send with them!
MUST-LISTEN AUDIO
This hour-long interview with Everyln and Joycelyn from #WeAreUofT on CIUT fm. Ellie Adekur from Silence is Violence (UofT) interviews the women as they open up about their experiences with the company. Listen here.
MEDIA ROUND-UP (so far) from Joycelyn and Everlyn's visit