A filmmaker and an activist visit Peru. You'll never believe why they were arrested!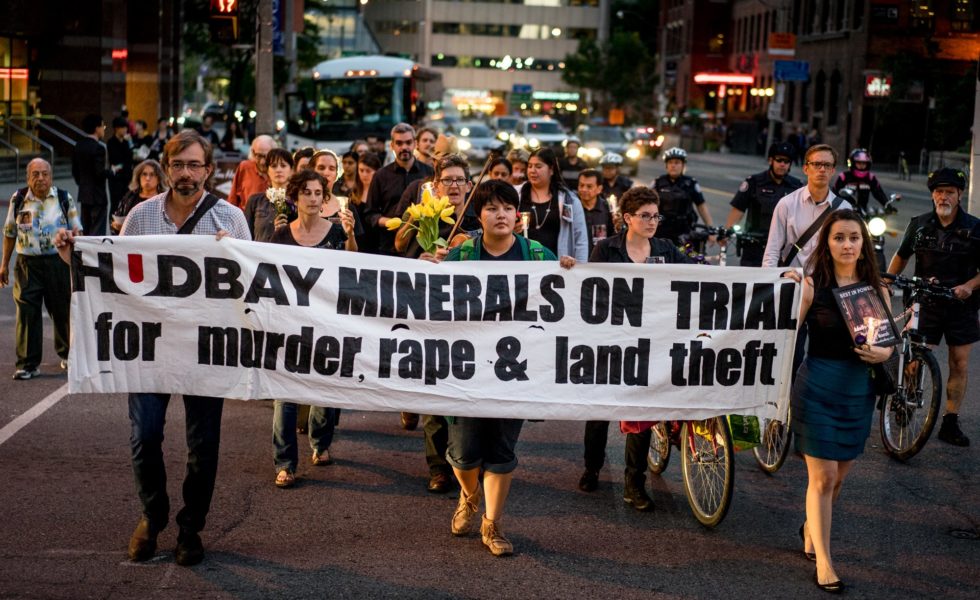 This isn't clickbait. This is real life. This is the Canadian mining industry.
Last week two friends of MISN were arrested in Peru after showing a documentary exposing Hudbay Minerals' track record of human rights and environmental abuses.
Stop by this Canadian mining company's annual general meeting to watch the film that they didn't want Peruvians to see!
Where: 150 King St. West
When: Thursday (May 4) 1-3pm
Facebook event here.

In response to Hudbay's legacy of legal repression and intimidation, the Mining Injustice Solidarity Network will hold a guerrilla screening of John Dougherty's censored documentary outside of their AGM. We will distribute popcorn and free links to the film to passersby and shareholders alike!
Drop in for as little or as long as you'd like while we hold space outside of the AGM in support of survivors of Canadian mining, in support of the right to say no to resource extraction without being criminalized, and in support of uncensored journalism.
Communities impacted by Canadian mining will not be censored or bullied! Where one voice is silenced, many more spring up in solidarity to make sure that these survival stories are heard – join us and be a part of this!
Background Information:
John and Jen's arrest in Peru was not arbitrary. They had been followed by police for several days as they showed the film to farming communities near Hudbay's Constancia mine, and were clearly being targeted for their critical perspective on Canadian mining.
And this isn't the first time that something like this has happened in a case involving a Hudbay mine. Hudbay's got a track record of using and benefiting from the law to harass and repress local organizers and international solidarity activists to serve its business interests.
Four years ago, the Mathias Colomb Cree Nation was sued by Hudbay for protesting outside of a mine site on their ancestral and unsurrendered territories; an injunction was issued by Manitoba courts in Hudbay's favour in an attempt to prevent future protest. Just last week, a Guatemalan judge called for retaliatory legal action against activist and widow Angelica Choc, accusing her of falsifying testimony about the murder of her husband at the hands of Hudbay security.
These are just two more examples. From Guatemala to Manitoba, Arizona to Peru, Indigenous and non-Indigenous communities are mobilizing to seek justice and reparations for the crimes, violations and harms carried out by Hudbay Minerals. Help us support this resistance!
Links for more information: