Donate
Donate to MISN
MISN is a grassroots group of unpaid activists that operates on a teeny budget. Our funding comes entirely from individual supporters and a few amazing unions  and NGOs. We don't and have never received government or corporate funding of any kind.
Click on the button below to donate to the Mining Injustice Solidarity Network!
Donated funds either go towards our general operating costs (General Fund), or towards financially supporting people impacted by Canadian mines in moments when they really need it (Impacted Communities Support Fund).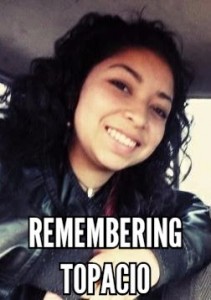 We are also currently raising funds for the Topacio Reynoso Youth Award.   More info on the award here.
After clicking the Donate button below you will be asked to specify the amount you would like to donate, and will be given the option to pay either by logging into Paypal, or by entering credit/debit card information. There is also an "Write a note" box where you should let us know if you would like the funds to go to our General Fund, our Impacted Communities Support Fund, or the Topacio Reynoso Youth Award.
If you have any doubts about this process or would like to clarify where your donation should be directed or how each fund is used, please send us an email at [email protected]
Thank you so much for your contribution!