Donate
Donate to Porgera Women's Ipili women's cell phone drive
Contribute to get documentation technology in the hands of female human rights defenders next to Barrick's Porgera Mine in PNG.

Important appeal for support for Angelica Choc and German Chub's legal team: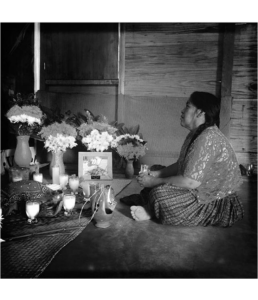 MISN allies need money for support with an ongoing lawsuit.  Toronto-based Hudbay minerals is currently being sued in Ontario courts for major human rights violations. German, and Adolfo's widow — land-defender Angelica Choc — have had to travel back and forth from their town to where the trial is taking place (at great personal, financial, and emotional expense) and their lives have essentially been on hold while this trial drags on. To support Angelica and German in their quest to see any kind of justice please donate to MISN's impacted community fund (using the donate button below) and make a note that it be designated towards Angelica and German. 
Image: Angelica Choc at a recent commemoration for Adolfo Ich. Photo by James Rodriguez. 
---
Donate to MISN
MISN is a grassroots group of unpaid activists that operates on a teeny budget. Our funding comes entirely from individual supporters and a few amazing unions  and NGOs. We don't and have never received government or corporate funding of any kind.
Click on the button below to donate to the Mining Injustice Solidarity Network!
Donated funds either go towards our general operating costs (General Fund), or towards financially supporting people impacted by Canadian mines in moments when they really need it (Impacted Communities Support Fund).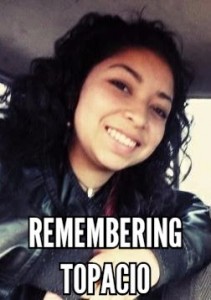 We are also currently raising funds for the Topacio Reynoso Youth Award.   More info on the award here.
After clicking the Donate button below you will be asked to specify the amount you would like to donate, and will be given the option to pay either by logging into Paypal, or by entering credit/debit card information. There is also a "reference" box where you should let us know if you would like the funds to go to our General Fund, our Impacted Communities Support Fund, or the Topacio Reynoso Youth Award.
If you have any doubts about this process or would like to clarify where your donation should be directed or how each fund is used, please send us an email at [email protected]
Thank you so much for your contribution!
---
Thank you for your support!
In response to the murder of Jeremy Abraham Barrios  in Guatemala city on November 12th, we collected donations to direct to his family to help them cover funeral costs. Thanks to your generous support we were able to send $1000 to Jeremy's family!
Jeremy was a human rights defender and member of the legal team (CALAS) supporting the land defenders who were shot by Canadian mining company Tahoe Resources. He was 22 years old. MISN is a member of the Coalition Against Unjust Mining in Guatemala. Our press release in response to the murder is online here. More info here on the ongoing struggle against Tahoe Resources in Guatemalan and Canadian courts.