UPDATE: Evict Imperial: Stand With Secwepemc Women Warriors Society!
Posted on April 29, 2015 by mininginjustice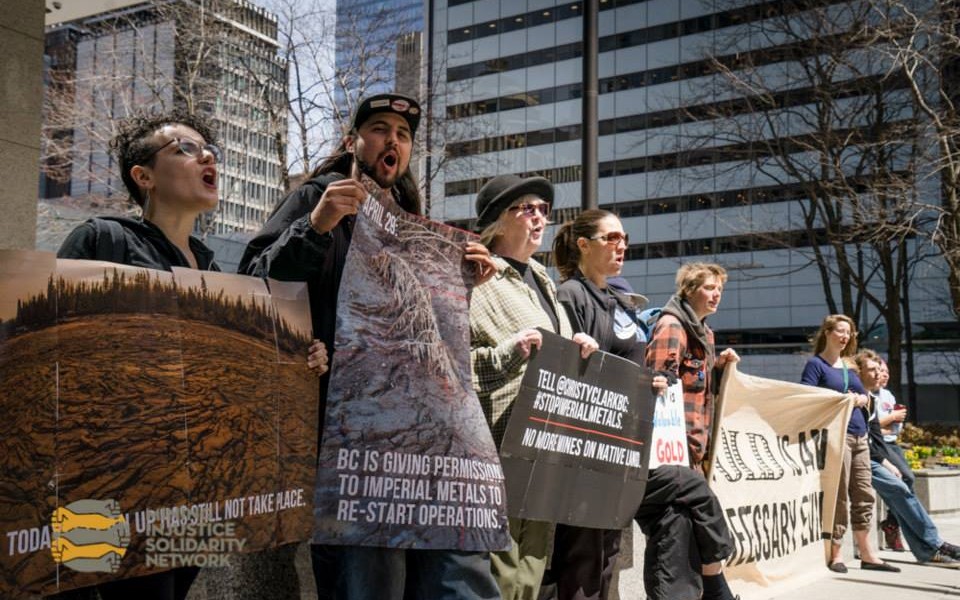 April 29th is a national day of action called for by Secwepemc Women Warriors Society to demand the eviction of Imperial Metals and to stop the reopening of the Mount Polley Mine. Last August, Imperial Metals dumped 14.5 million cubic meters of toxic mining waste in to the unceded Territory of the Secwepemc Peoples. The spill has disrupted the Secwepemc Peoples way of life. The toxics tailings have reached the Fraser watershed and the 2nd largest salmon spawning grounds in the world. Allowing this corporation to reopen the Mount Polley mine is a violation of sovereignty and opens the territory up to further damage.
The Mining Injustice Solidarity Network and No One Is Illegal – Toronto worked together on April 29th, 2015 to plan a demonstration at the Toronto Stock Exchange — which facilitates the negligent practices of Canadian mining companies — in honour of this day and to hold Imperial Metals accountable for the Mount Polley disaster.
Allowing this corporation to reopen the Mount Polley mine is a violation of sovereignty and opens the territory up to further damage.
More pictures below (all by Allan Lissner):