Extraction! A comic Book Launch & Fundraiser for MISN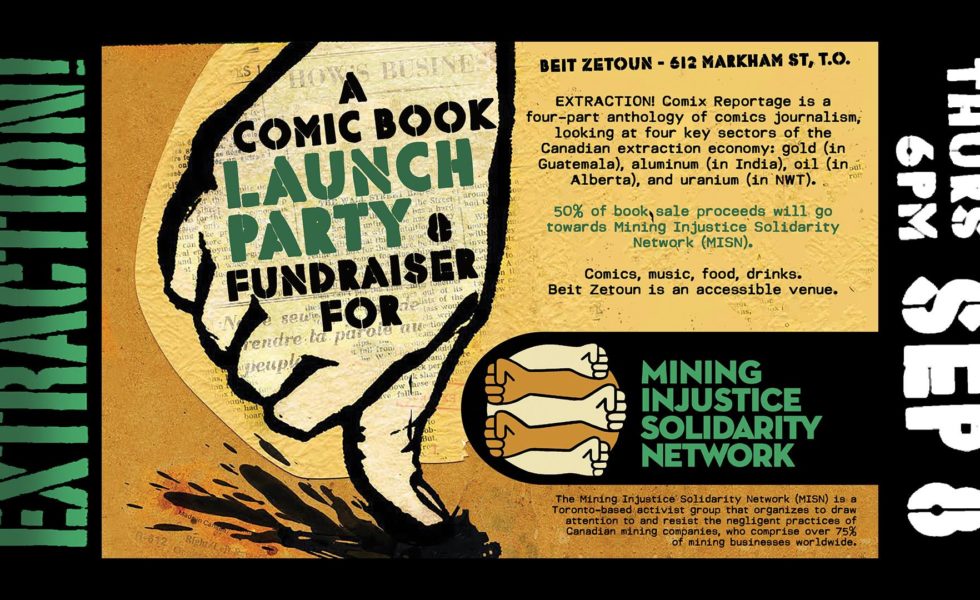 When: Thursday Sept. 8, 6pm
Where: Beit Zetoun (610 Markham St, Toronto)
In 2006, four journalists teamed up with four comic book illustrators to expose the criminal activities of Canadian mining companies. "EXTRACTION! Comix Reportage" is the result: a four-part anthology of comics journalism, looking at four key sectors of the Canadian extraction economy: gold (Guatemala – Goldcorp), aluminum (India – Alcan), oil (Tar Sands, Alberta), and uranium (N.W.T. – Cameco).
On the eve of the project's 10th anniversary, "EXTRACTION: Comix Reportage" is back in print and helping a new generation of readers understand the human and environmental costs of these industries.
Join Ad Astra Comix and Mining Injustice Solidarity Network (MISN) for the Toronto launch of this important title. Books are $18, and 50% of all sales of "Extraction!" go towards MISN and their important work.
Beit Zatoun is a partially-accessible space; unfortunately, the washrooms are down a flight of stairs. The closest wheelchair- accessible subway station is Bathurst. We ask participants attend this event scent-free so that everyone can enjoy the space. Transit tokens will be available to those in need.
Finally, this is a family-friendly event! We will have a designated person to hang out with kids and some kid-friendly games, books, and comics (of course!).
For more information about "EXTRACTION!", check out the press kit:
https://extractionpresskit.wordpress.com/
Co-Organized by Ad Astra Comix, a new publisher dedicated to comics with social justice themes.