People Before Profit: Evict the Corporate Villains!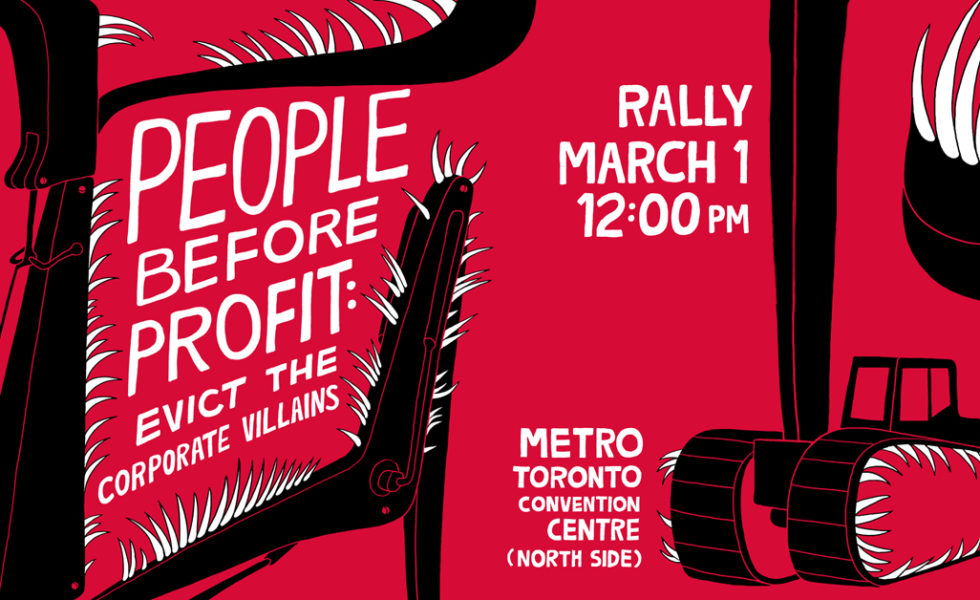 Sunday, March 1, 2020 at 12 PM
Metro Toronto Convention Centre, 255 Front Street West, Toronto
Facebook event
Graphics and more info here
To quote Utah Phillips, "The Earth is not dying, it is being killed, and those who are killing it have names and addresses." And precisely those people are about to gather in our city (and we know where they'll be on March 1st).
What is PDAC?
From March 1-4 Toronto will play host to the world's largest mining conference at the Metro Toronto Convention Centre. With approximately 25,000 attendees, the Prospectors and Developers Association of Canada (PDAC) convention will host many of the world's most destructive and violent companies together in one place, making deals to sell off the rest of the planet and extract every last bit of oil, gold, uranium, and every other exploitable resource that they can find.
The attendees list doubles as a Rolodex of the world's worst corporate criminals. Just one company alone–Teck, PDAC's top sponsor– is trying to push through approval for a mega tarsands mine that would single-handedly blow through Canada's emissions budget and make it impossible to meet our climate targets. PDAC attendees include some of the world's wealthiest individuals and represent companies committing some of the worst climate and human rights crimes in the world.
Why should you care about the PDAC convention?
Because Canada's mining companies, with the full and unconditional support of the Canadian government, wreak havoc on communities around the world, blatantly violating human and Indigenous rights, inflicting severe environmental destruction, and creating vast economic inequalities. They do this behind the guise of corporate social responsibility and sustainability, holding glitzy galas to celebrate each other's greenwashing and charitable efforts.
Because their "business as usual" is a direct path to a planet that is literally unlivable. A world with even greater levels of wealth inequality. A world in which the mining companies that inflict mass forced displacement are also the lobbyists for harsher border and migration policies. A world defined by imperialism and neo-colonialism. A world where the rights of capital take precedence over human rights. This is not the world we deserve. And it is not the world we are trying to build.
JOIN US on March 1st to protest PDAC!
A coalition of community groups are calling on Torontonians to join us in protesting PDAC. On Sunday, March 1st at noon, we will show up in solidarity with those on the front lines to stand up for the future we all deserve.
Come on out, bring your friends, colleagues, neighbours, and loved ones. Come be with us as we gather in community to stand up to the extractive industry's violence, ongoing colonization, and complete disregard for the future of life on this planet.
They are not in charge of our city, our futures, or this planet.
Context and Demands
Toronto: the hub of extractivism
It's no accident that PDAC takes place in our city every year. Nearly 75% of mining companies around the world are Canadian, and Toronto in particular is known as the global hub for mining finance. This same industry is also one of the world's most egregious offenders when it comes to human rights and environmental abuses, infamous for destruction through:
❎ Violent colonization to shove through their extractive projects,
❎ Land theft, forced displacement, and dispossession of land and livelihood,
❎ Creation of militarized warzones to defend their oil rigs and mines,
❎ Violent repression including assassination and sexual assault of those who resist,
❎ Disruption of culture and community cohesion,
❎ Wide-scale contamination of water, land, and air, threatening health and food security.
Enough is enough!
We demand an end to all of this extractive violence that renders our planet unlivable.
This requires:
✅ No more pipelines
✅ No fossil fuel extraction
✅ No more open pit mines
✅ No more land theft and forced displacement
✅ No more corporate impunity
✅ Status for all, including all those displaced by extractive industries and their destructive impacts
✅ Full recognition of Indigenous sovereignty and respect for local self-determination
PDAC and everything it stands for is fundamentally incompatible with the world we need to build for our future.
To endorse the action and to connect with our event organizers, please email [email protected]