UPDATE: BRINGING MINING INJUSTICE TO THE FOREIGN POLICY DEBATE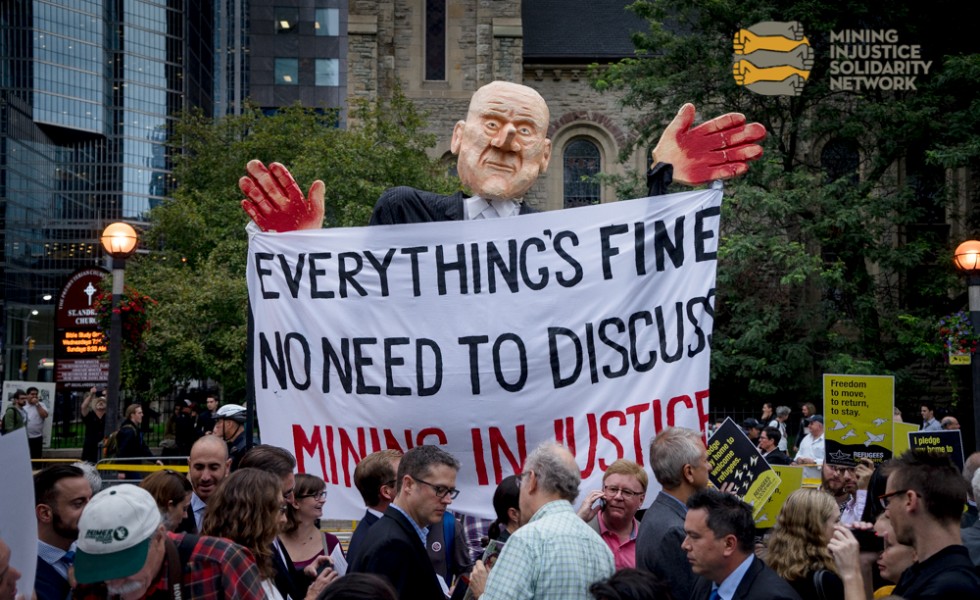 On September 28th Harper, Mulcair and Trudeau participated in the first-ever foreign policy election debate — hosted by the Munk Debates — at Roy Thompson Hall in Toronto. If Peter Munk (the founder of the world's largest gold mining company Barrick Gold) and his associates weren't involved, this might have been a great opportunity to have the leaders speak about Canada's international mining industry and the complete lack of regulatory mechanisms to prevent human rights abuses at the hands of Canadian companies operating abroad. While no questions were asked about mining (despite the fact that Canada is the world leader in mining and its abuses!), we showed up en masse and joined forces with a Refugees Welcome rally outside the debate to ensure that mining injustice and impunity were on everyone's radar before the debate and during this election season. 
We also handed out hundreds of fliers with our Top 5 Reasons why they should have discussed mining injustice.
For some background info on why we're not surprised mining injustice wasn't discussed (and why we had a 15 foot bloody-handed Peter Munk puppet at the rally!) see this NOW article written by MISN member Sakura Saunders. 

More photo from the rally by MISN member Allan Lissner below: