We Believe Survivors of Canadian Mining and Barrick Gold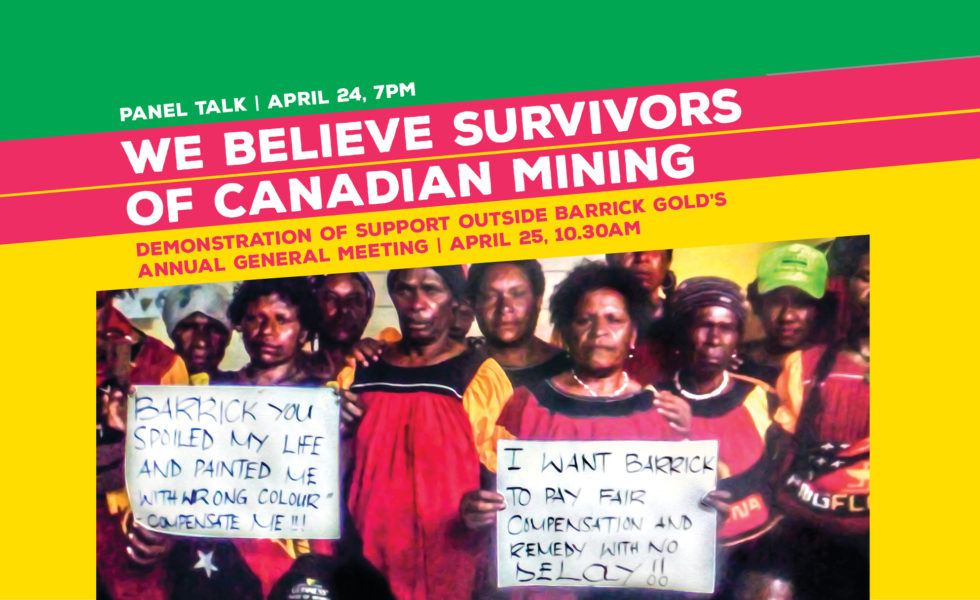 April 24, 7pm: We Believe Survivors of Canadian Mining Panel
April 25, 10:30am: Barrick AGM Protest, 255 Front St.
Every year, we gather outside of the Annual General Meeting of Canadian mining giant Barrick gold, to amplify the voices of those directly impacted by their operations globally. This year, we are shining the spotlight on gendered violence at Barrick's mines, by highlighting and supporting survivors of sexual assault.
This year, come to hear updates of the struggles against Barrick's abuses at mine sites around the world, with a special focus on women-led organizing.
PANEL DISCUSSION: Monday April 24, 7pm @UofT (exact location TBA)
On the night before the demonstration, join us and Silence is Violence – University of Toronto for We Believe Survivors of Canadian Mining as we take an international, national, and very personal look at violence against women, as we find solidarity in the similarity of these struggles.
From gaslighting tactics, to the cultural and legal barriers that prevent women from sharing their stories, we will look at the systemic forces that work to silence victims of abuse. We will also hear from courageous women who have stood up for themselves and self-organized with other survivors to tell their stories and demand accountability.
//ProtestBarrick is an international campaign of support and solidarity with communities directly impacted by Barrick around the world. It is 100% volunteer-run and in its 10th year! The protest outside Barrick Gold's AGM is a time that we come together with representatives of Barrick impacted communities to reconnect with their frontline struggles and push for accountability and visibility for these issues in Canada.//