COVID Recovery or COVID Cooptation? TAKE ACTION on Bill 197!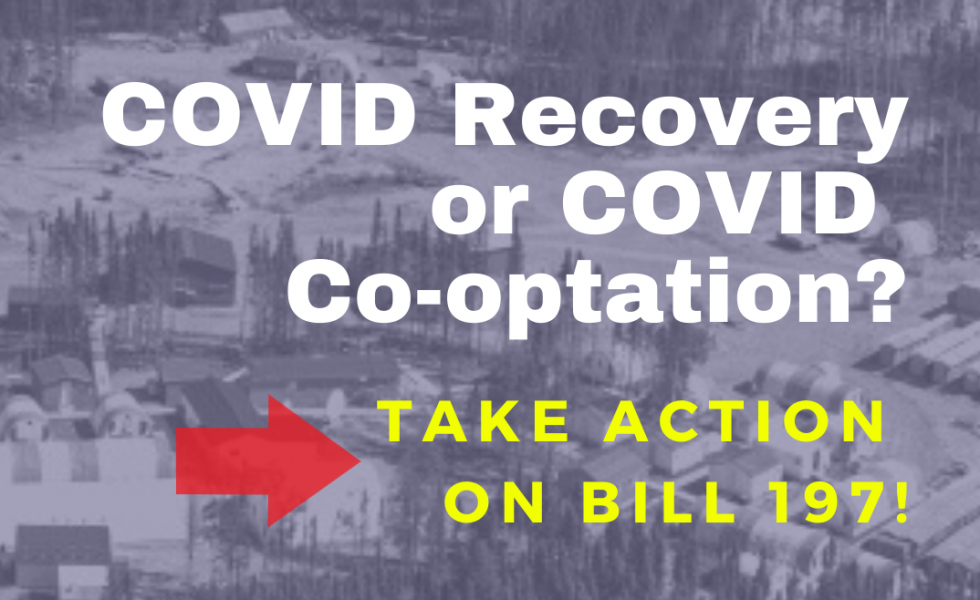 Is Ford using the pandemic as his chance to destroy laws that protect Indigenous sovereignty, defend environmental safety, and uphold our right to say no to extractive projects in Ontario?
We have until November 10th to have our say about it!
There are four urgent actions you can take right now:
1) Submit a public comment by November 10th
Right now, the Ontario government is seeking public feedback on which kinds of projects should require comprehensive environmental assessment according to the new law. We KNOW you've got something to say about this.
Here's how to comment:
Click this link: https://ero.ontario.ca/notice/019-2377 
Then, click the blue "Submit a comment button".
If you want to leave a comment with your name, click "Register for an account" (if you don't have one already).
You can also submit an anonymous comment. If that's what you'd like to do, click the "Comment without registering" button.
Write however much you'd like! You can attach URLs or documents to support your comment if you want.
One thing to note: They won't publish your comment if it contains "offensive language", personal/identifying information (like your name, phone number, or address), or language attacking a person/group.
Here are two examples you can use as reference (either to get ideas, or to use to back up what you say!):
You should write whatever feels true and important to you! Some key points that you might highlight include:
All mining projects and major mine-related infrastructure (e.g. smelters, tailings ponds, etc.), especially open-pit mines, should be subject to comprehensive environmental assessment. This is due to their enormous size, the potential risks to the environment and to human health, the liabilities associated with the long-term management and storage of mining waste, and more.
The Environmental Assessment Act should be automatically applied to all major public and private sector undertakings as before, not just a select few as is being proposed here.
Relying on "thresholds" or "triggers" is not a good way to assess whether a project should require environmental assessment. The length and/or size of a project is not an adequate measure of the risk that it poses to the surrounding people and environment (some better measures would be location, design, operational plans, etc.). Context is everything!
The public should be able to have a say in all environmentally-significant projects, whether public or private, and the only true way to tell whether a project is environmentally significant is to assess it comprehensively.
Additionally…
Processes that ensure environmental safety and Indigenous rights are not red tape. I want to live in a province that has robust, clear, predictable, participatory environmental assessment processes that take context and complexity into consideration!
If any project is taking place on the traditional territory of an Indigenous nation, the proponent should be required to obtain free, prior, and informed consent from this community before moving forward. This process should be part of any good environmental assessment.
I am outraged that Bill 197 was passed with no opportunity for meaningful public input, and would like to remind the government of their obligations under the Environmental Bill of Rights!
2) Share your comment with us!
Once you've submitted your public comment to the government, we encourage you to anonymously share what you wrote with us! We want to create a small archive of public perspectives in support of comprehensive, widespread, credible environmental assessment in this province.
Click here to submit your comment to us: https://forms.gle/3y6UpRwV5JQGWS1MA 
3) Share this call to action on social media before the 10th!
Click here for a list of sample posts and tweets.
Feel free to link to any of three videos we made explaining Bill 197, or follow MISN's Facebook or Twitter accounts and share what we share.
4) Tell your elected officials what you think.
This one doesn't have to happen by November 10th. But now that you've articulated your thoughts so clearly, why not share them with your MPP, the Minister of the Environment, Conservation and Parks, and the Premier?
As Kerrie said
in this video
, not everything in this legislation is fully articulated and there is 
still
a chance to influence things. The stronger our collective voice is NOW in calling for strong, widespread, rigorous environmental assessment in this province, the more we can influence moving forward.
Find out who your MPP is and how to contact them by clicking here, scrolling down to the section titled "Find my MPP", and typing in your postal code: https://www.ola.org/en/members 
Contact the Minister of the Environment, Conservation and Parks by calling 416-314-6790 and reading them your comment.
Contact Premier Ford by submitting a comment at this link or by calling 416-325-1941 and reading them your comment.