#DisruptPDAC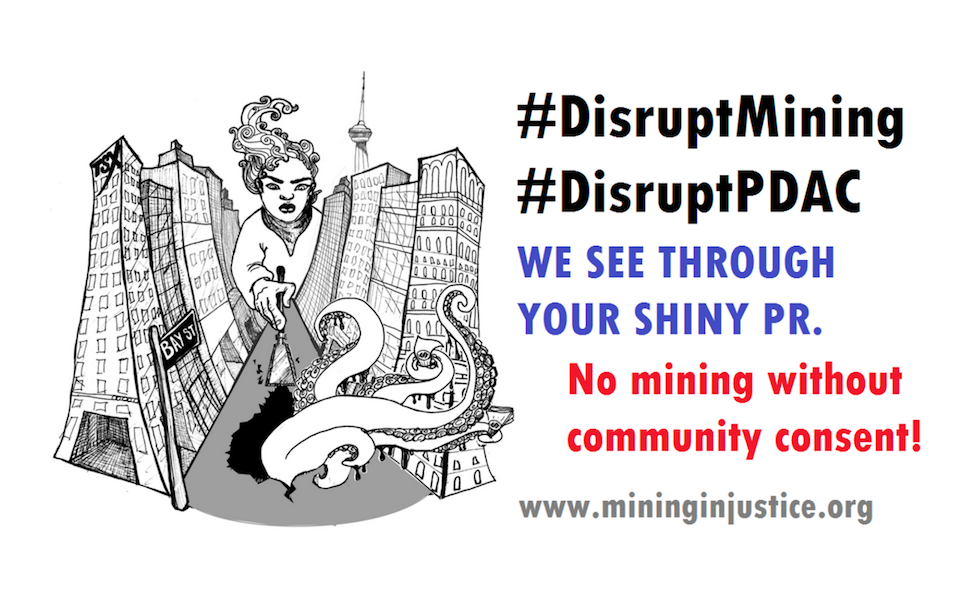 The Prospectors and Developers Association of Canada (PDAC), organizes the world's largest mining convention every year in Toronto in March and carries out lobbying efforts in favour of the Canadian mining industry throughout the rest of the year. They describe themself as "the leading voice of the mineral exploration and development community" and claim to encourage "best practices in technical, operational, environmental, safety and social performance". Meanwhile, Canadian mining companies are far and away the worst offenders in environmental, human rights and other abuses around the world (according to a global study commissioned by PDAC itself but never made public).
The PDAC convention is dedicated to telling compelling stories about the mining industry's successes and innovations, especially in the realm of "corporate social responsibility" and sustainability. But we know better! Let's not let them get away with using this convention as yet another shiny PR opportunity to cover up industry harms and repress dissent.
What have we been doing to #DisruptPDAC this year?
Check out our article in NOW about the role that PDAC plays in supporting the harms of the mining industry here: "Canadian mining convention ignores harsh reality of deadly industry"
On Sunday, March 5th, over 100 people will be getting on the bus for Toxic Toronto: a bus tour through the belly of the beast with a rally culminating at the PDAC convention to untangle the secret webs of power and money that connect our city to some of the most harmful and toxic mining and extractive projects around the world. Facebook event here.
On February 24th we organized a panel called Belly of the Beast: A Biopsy of TO's Mining & Financial Sectors exploring Toronto's financial district and the reach of its tentacles throughout the global mining industry.
Check out our footage from the event:
This isn't our first PDAC protest. Check out past years' actions!
2016:
Canadian Mining Kills: a video from our sneaky inside action last year
"Canadian Mining is Murder": Article in NOW about last year's action
2015:
"PDAC Spoofed!: It's funny because it's absurd; it's sad because it's true": Article about the time we snuck spoofed materials into the PDAC convention
"Welcome to PDAC! The world's biggest corporate colonial supervillain convention": More photos from our 2015 action