URGENT ACTION: HELP PUT MINING JUSTICE ON THE FOREIGN POLICY AGENDA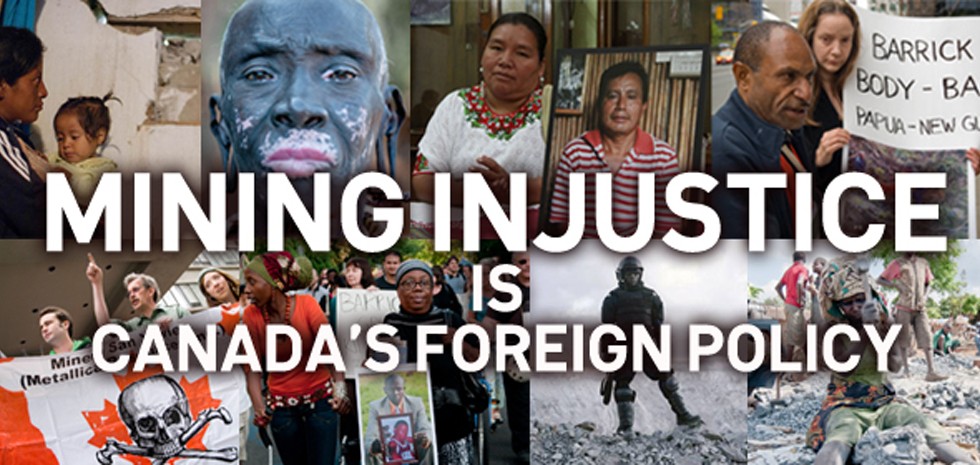 HELP PUT MINING JUSTICE ON THE FOREIGN POLICY AGENDA
(event + social media campaign)
On September 28th, the first-ever foreign policy election debate will be held at Roy Thompson Hall in Toronto. If it wasn't being hosted by the Munk Debates, this would be a great opportunity to have the leaders speak about Canada's international mining industry and address the complete lack of regulatory mechanisms that could prevent human rights abuses and hold Canadian companies operating abroad accountable.
But we won't hear anything about that if Munk and his allies have anything to do with it. So we want to take this important moment to demonstrate support for mining justice during and in the lead-up to this debate. We want to influence parties' mining policy platforms since up until now, they have been silent on this issue. 
3 Actions to put Mining Justice on the Agenda!
1. Support our social media campaign!
In the lead-up to the debate, we have created a Thunderclap campaign and a page of sample tweets to send (every day!) to @munkdebate, news outlets, and the party leaders to ensure that mining injustice and impunity are on their radar before the debate.
2. Help us maintain a presence outside the Munk Debate on Foreign Policy
On Sept 28, we will be outside the Munk Debate with big banners, placards, a 15′ Peter Munk puppet, and informative flyers to hand out to Munk Debate attendees. Help us maintain this presence… the more the merrier and the harder to ignore! 6:30pm meet-up time at Roy Thompson Hall (FB Event here).
3. PROMOTE!
Invite your friends to this event, change your Facebook profile picture, write a letter to the editor… use this occasion to focus attention on this issue that defines Canada's largest contribution to global injustice.
BACKGROUND:
With 75% of the world's mining and exploration companies headquartered in Canada, international mining abuses are a Canadian issue. But while mining interests influence international aid, dictate the activities of our foreign diplomats, and prescribe the conditions of our multi-lateral investment and "free trade" agreements, debate about this industry has not yet become an issue of national debate during this election season. Meanwhile, Canadian mining companies abroad are associated with horrifying human rights abuses, including targeted assassinations, the militarization of entire communities, the persecution of activists and union leaders, massive displacement and environmental devastation that goes unchecked and uncleaned. Right now, there are no Canadian laws in Canada for holding companies that abuse human rights abroad accountable.
We have reason to believe that the advisory board selecting questions for the Munk Debates have an interest in keeping the topic of Canadian mining under-represented in the debates. Unsurprisingly, the "Munk Debates", named after Peter Munk (the founder of the world's largest gold mining company Barrick Gold), has an advisory board with individuals close to Munk, including his son and Barrick Gold board member, Anthony Munk and former Munk School director, Janice Stein.